In 2021, we were recognized by the CDP (Carbon Disclosure Project), for the fourth consecutive year, as one of the best companies evaluated in the Climate Change Program. With a score of A-, we were the best rated cement company in Brazil and among the top ten companies in the industry in the world.
www.cdp.net/en
In 2022, we received a BBB rating in the MSCI ESG Ratings¹ assessment.
www.msci.com/
In 2021, Votorantim Cimentos achieved 50/100 in Moody's ESG Solutions' ESG Assessment². This grade is considered a robust level by Moody's ESG Solution' methodology.
esg.moodys.io/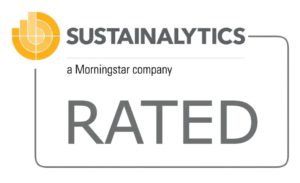 In 2022, we received an ESG Risk Rating of 20.8 and was assessed by Sustainalytics³ to be at medium-risk of experiencing material financial impacts from ESG factors.
www.sustainalytics.com/

¹ The use of any data from MSCI ESG research LLC or its affiliates ("MSCi") by Votorantim Cimentos, and the use of MSCI logos, trademarks, service marks or index names herein, do not constitute a sponsorship, endorsement, recommendation, or promotion of Votorantim Cimentos by MSCI. MSCI services and data are the property of MSCI or its information providers and are provided "as-is" and without warranty. MSCI names and logos are trademarks or service marks of MSCI.
² This ESG Assessment was originally conducted by V.E, which is now part of Moody's ESG Solutions.
³Copyright ©2021 Sustainalytics. All rights reserved. This [publication/ article/ section] contains information developed by Sustainalytics (www.sustainalytics.com). Such information and data are proprietary of Sustainalytics and/or its third-party suppliers (Third Party Data) and are provided for informational purposes only. They do not constitute an endorsement of any product or project, nor an investment advice and are not warranted to be complete, timely, accurate or suitable for a particular purpose. Their use is subject to conditions available at https://www.sustainalytics.com/legal-disclaimers.